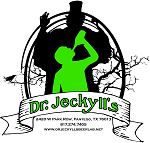 Yo, Dr. Jeckyll's crew? It's your not-regular host Stephen, stepping in for Katie this week. Katie was busy adulting, and we had a kin of weird week here. All the regulars were missing (wtf, guys?!), but we had two teams ready to battle it out for the glory and the prizes. Unfortunately, it was an unbalanced night, 6 vs. 2, but the 2 were putting up a great fight. It was a surprisingly close night, but ultimately the gold ring went to Good Luck, Trebek! with a strong victory. Thanks for coming out this week!
Bonus Point Opportunity: Tell Katie you reas the write-up, and you deserve a bonus point, says Stephen! :)
See you, space cowboy!
—Stephen
Do not forget to keep checking Facebook, Twitter, Instagram, and right here at pgtrivia.com for bonus point opportunities, #didyouknow spectacularness and more.