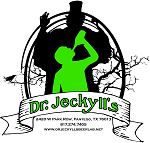 What a close game! There were a lot of questions that everyone knew, but a LOT of questions that stumped you guys. Thanks to Mike from The Collective Brewing Project for the beer and gear, and suggesting that beautiful, delicious, purple (Go Frogs) Blueberry Lime Gose.
Even though a few teams were a couple men short, we had some newcomers to fill up the bar. The No John's (who normally have two John's) came in 3rd with 34 points. Toolbox held down 1st until the very end, coming in 2nd with 35 points. Then a battle ensued between The Butt Sisters and And Then There Was One when they tied for 1st place with 38 points. We all learned from the tie-breaker that Oreos have 12 flowers stamped into the pattern on the cookie, when And Then There Was One won this week's game ALL BY HIMSELF! (And some cool Collective Brewing Discs/Frisbees - luckily he actually plays) And don't worry, Paul has continued to win a prize when he's in attendance. I wonder how much gear he has taken home from trivia nights...
Thank you for having me. You guys are awesome. See you next week!
Peace Out, Girl Scout.
PGKT
Do not forget to keep checking Facebook, Twitter, Instagram, and right here at pgtrivia.com for bonus point opportunities, #didyouknow spectacularness and more.