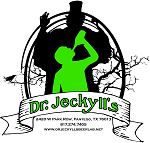 Thanks for coming out tonight! Matt came in clutch with some sweet beer and gear INCLUDING a couple of tin tackers! Everyone loves a good tin sign.
In 3rd with 35 points was Pork Chop Xpress. Suck It Trebeck! Held a good lead but came in 2nd with 36 points, while Toolbox came up from behind for their first win in weeks!
Make sure to head up to Dr. Jeckyll's for other fun nights like Wednesday's Open Mic Night! Until next time!
Peace Out, Girl Scout.
PGKT
Do not forget to keep checking Facebook, Twitter, Instagram, and right here at pgtrivia.com for bonus point opportunities, #didyouknow spectacularness and more.