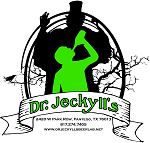 Summer is coming (insert GoT joke) and we feel the temperature rising, but that's okay! What better excuse to drink more beer? Shoutout to Gavin from 3 Nations Brewery for bringing some of their liquid gold in for our prizes, ONE OF WHICH only comes in keg-form. So those unmarked, special bottles of Haze Wizard have hopefully already been enjoyed while relaxing at home.
We had a wide spread for scores, and newly formed team Quiz Wizards came out in third with 26 points! Hopefully they'll come back and claim a prize next week. Morning After Pilsner came in second with 30 points, and Lousy Smarch Weather held down first place all night, ending with 35 points! Only one person got the Simpsons reference in that name, and sadly it was not me. Oh, Dooley rules.
Thank you again for having me out! I'm super appreciative that PGKyle trusts me enough to handle the game without him. I enjoy hanging and hosting for you guys- keep coming back and so will I! See you all next week!
PGKatie
Do not forget to keep checking Facebook, Twitter, Instagram, and right here at pgtrivia.com for bonus point opportunities, #didyouknow spectacularness and more.