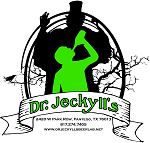 Woah!
Let me tell you, folks, that this was an insane evening! I've never seen so many fine folks gathered in one place for such a grand time. Harry Potter Trivia at Dr. Jeckyll's was a HUGE, and I mean BIGLY YUGE, time! So much so that the daytime bar and kitchen staff had to stick around well into the evening just to make sure everyone continued to get served. Amazing is the best word for what happened there. I sure hope that you all had as enjoyable time as I did! The evening was sponsored by the Arlington Public Library who also provided the prizes. Thank you very much!
At the end of the evening, it was The Love Goods who just edged out Dumbledore's Reserve Army to take first place. DRA in turn just barely beat out The Roonil Wazlibs for second place.
The game was contested right to the very end with only one point between each of the top 3 teams. I bow to your Harry Potter knowledge.
Remember, we're doing a Stranger Things event on the 21st also sponsored by the Arlington Public Library.
We'll see you then!
Until then, take care of yourselves and each other.
Peace Out,
PGKyle
Do not forget to keep checking Facebook, Twitter, Instagram, and right here at pgtrivia.com for bonus point opportunities, #didyouknow spectacularness and more.