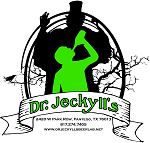 Well, what do you know? Circumstances well outside my ability to control kept me from being there until well into the evening, but PGKatie stepped right up and rocked the joint. From all reports, she's found her groove and is spinning it tight!
Congratuilations to Toolbox for eeking out a 2nd place finish only 1 point ahead of Menace to Sobriety while 49 Million Bubbles stayed large and in charge on top of the stack all night long.
You folk are an amazing group and we look forward to being there each and every week. Thank you.
Until next time, take care of yourselves and each other.
Peace Out,
PGKyle
Do not forget to keep checking Facebook, Twitter, Instagram, and right here at pgtrivia.com for bonus point opportunities, #didyouknow spectacularness and more.