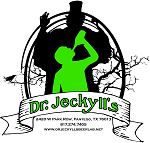 Hey, hey, Dr. Jeckyll's trivia fans! It's your favorite substitute host, Stephen. The illustrious and witty Katie had a last minute thing to do, and I live around the corner, so you're stuck with me, haha. But we had a great time anyway, and we did all the Katie things, so let her know you still had fun anyway.
Pretty much everyone was on fire last night; those were some of the best trivia scores in a while. Special congrats to Toolbox for a solid 3rd place, Good Luck, Trebek! for a strong finish in 2nd, and a dominating victory for the solo trivia master, Total Recall, with an amazing 46 points! Damn, man. Impressive!
Thanks for playing trivia with me, and I hope to see you all again soon.
—Stephen
Do not forget to keep checking Facebook, Twitter, Instagram, and right here at pgtrivia.com for bonus point opportunities, #didyouknow spectacularness and more.