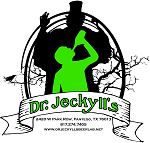 Yo, Dr. Jeckyll's peeps! Thanks for coming out and playing trivia tonight. We had good beer (oooo, that Velvet Hammer got me good), great tacos courtesy of Dos Compas, and great trivia courtesy of Pub Guys!
It's sad to say, but my time as your host is coming to a close soon. You've only got me for two more Mondays until your hostess-with-the-mostest Katie returns from the desert. I'm assuming she's in a desert... geography is not my best subject (that's literature!).
Thanks to all the teams, and a special shout-out to Total Recall, playing solo like always, for defeating all comers and taking the victory, with a whopping 41 points. Great job, everyone!
Bonus Point
Find me in the bar before 7pm and answer the following question for a bonus point:
What poem, by which poet, begins with the lines:
Passing stranger! you do not know how longingly I look upon you,
You must be he I was seeking, or she I was seeking, (it comes to me, as of a dream,)
Do not forget to keep checking Facebook, Twitter, Instagram, and right here at pgtrivia.com for bonus point opportunities, #didyouknow spectacularness and more.