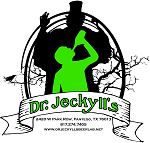 Happy Birthday, America! We had a couple new teams stick around after the political discussion scheduled before trivia, which made for a fun and full eveing at Dr. Jeckyll's! Shoutout to Legal Draft for sending one of the best (and most handsome) reps we've had! SO MUCH beer and gear, and that final prize Koozie was quite possibly the best prize I've seen so far.
This was not a clear cut game at all. Every round had a different lineup for the scores. Toolbox came in third with 38 points. Total Recall came in second ALL BY HIMSELF with 39 points, which leaves We Always Come First coming in first with 44 points.
As always, thank you to everyone who came out. This is such a fun thing that I get to do. Have a safe Fourth of July, and see you next week!
Peace Out, Girl Scout.
PGKT
Do not forget to keep checking Facebook, Twitter, Instagram, and right here at pgtrivia.com for bonus point opportunities, #didyouknow spectacularness and more.