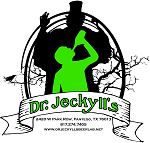 Hey Everyone! First off, I hope you all made it home safely. The weather actually took a lucky turn. That said, what a night! It always thrills me when a place is near empty right up until game time, and then, BAM, the place is packed. Thank you, everyone for being there, and for making me feel so welcome! We got the energy level figured out early on, and y'all kept it up all night! I think it helped that Marco for Martin House Brewing was in the house to bring us some really fun SWEET beers. (double entendre meant) Good beer, fun questions and an awesome crowd made for A Near Perfect Night!
It was also fun to see the scores as they progressed throughout the game. Morning After Pilsner and You've Got Ale were neck and neck the entire game. It was as much fun for me to watch those scores as it was for the teams. In the end, You've Got Ale would grab that First Place gift card, and Morning After Pilsner, with only a one-point difference, took Second.
Thank you all again for making the night so much fun. I look forward to the next time I get to hang out with y'all!
Cheers
PGMarc
Do not forget to keep checking Facebook, Twitter, Instagram, and right here at pgtrivia.com for bonus point opportunities, #didyouknow spectacularness and more.