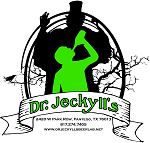 Shoutout to Josh from Legal Draft for the sweet beer and gear! We had one of the best prizes I've ever seen at trivia since hosting here! Not to mention my favorite beer. AND 2 Compas. And Daisy got to shake all the hands she could ever want. It was a GREAT NIGHT!
Toolbox came in 3rd with 35 points, Good Luck, Trebeck was 2nd with 43 points, and MSD won it all with 46 points! This was a high scoring game, y'all,
I want to give another shoutout to the ladies from Witty Jazz for joining us tonight and letting my new friend from another trivia location join your team! You're all legends.
I can't believe I've been with you guys for almost two years! I love you all and can't wait to see you next week!
Peace Out, Girl Scout.
PGKT
Do not forget to keep checking Facebook, Twitter, Instagram, and right here at pgtrivia.com for bonus point opportunities, #didyouknow spectacularness and more.