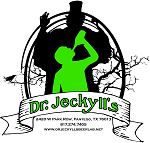 Thanks Dr. Jeckyll's! It's been absolutely incredible hosting for you this summer. I hope you had as much fun as I did. Don't worry, I'll be around, but I'll just be drinking with you from now on, not slinging trivia on stage.
We had a great showing this week. All our regular teams, playing at the peak performance. It was truly a fiercely fought trivial battle... wait, that doesn't sound right. :P
Shout out to Good Luck, Trebek! and Toolbox for putting up a good fight, but it wasn't good enough to stop the trivia dynamo that is the one-man-trivia-monster Total Recall.
See you next week, from your side of the stage!
—Stephen
Bonus Point
Find your host in the bar before 7pm and answer the following question:
Which 2011 novel by Veronica Roth capitalized on the success of the teen dystopian literature genre to achieve instant best-seller status and even spin-off a movie series?
Do not forget to keep checking Facebook, Twitter, Instagram, and right here at pgtrivia.com for bonus point opportunities, #didyouknow spectacularness and more.