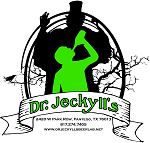 We had some outlaws in the house tonight thanks to Shawn from Outlaw Cider! He brought in a bunch of prizes for drawings, so all seven winners were decked out with some awesome gear.
Again the ladies of Macareno took first place with 48 points, so second and third got to take home the top prizes after a tie breaker round between Toolbox and The Leftovers. We had a numbers question, but The Leftovers overshot the mark and gave Toolbox second place!
Thanks for being so hyped for me tonight, cheers to seeing you all next week!
Peace Out, Girl Scout.
PGKT
Do not forget to keep checking Facebook, Twitter, Instagram, and right here at pgtrivia.com for bonus point opportunities, #didyouknow spectacularness and more.