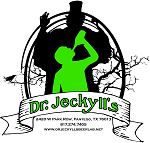 WOW! What a turnout! This was the biggest and most exciting game I've hosted to date! Shout out to Chris from Lakewood Brewing for some awesome beer and gear.
Toolbox held down the fort up until the very end, coming in 3rd with 37 points. Flat Urth Club Kids passed them up with 38 points, but the real winners are the lovely ladies of Macareno who earned 41 points WHILE taking your orders and serving you all. However, they can't accept their own prizes so 2nd place took 1st prize and 3rd took 2nd. These girls keep beating you, so you should tip them well - They deserve it.
Thank you for such a fun night, and I can't wait to hang out with you next week!
Peace Out, Girl Scout.
PGKT.
Do not forget to keep checking Facebook, Twitter, Instagram, and right here at pgtrivia.com for bonus point opportunities, #didyouknow spectacularness and more.