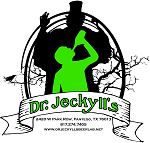 The expectant rain held off but still impacted attendance a small bit. But, smaller or not, you lot are still a truckload of fun. And, despite a few bits of tongue wrangling, we had a grand time. Wild Acre Brewery was in the house to promote their beers and they provided some swag for me to give out. Big shout out to Wild Acre (if you haven't been there, you should visit -- they're open from 2 to 6 pm every Saturday.
Congratulations to new team Wild Acrewho took home the top prize (a gift certificate to Dr. Jeckyll's Beer Lab), and to the Same Sexers who grabbed the second prize (a gift certificate to Supernatural Cafe) in addition to winning the bad ass tintack from Wild Acre.
Thanks again to Dr. Jeckyll's Beer Lab for allowing us to be there and to Supernatural Cafe for their excellent food!
Until next week, when you will be hosted by the very talented PGKasey, take care of yourselves!
Peace Out,
PGKyle
Do not forget to keep checking Facebook, Twitter, Instagram, and right here at pgtrivia.com for bonus point opportunities, #didyouknow spectacularness and more.