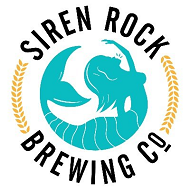 The Holidays are upon us! But that does not mean Trivia nights take a break, oh no! We continue to bring you the same level of reckless abandon and craneal pain you know and love us for.
Tonight we spotted 13 teams at Siren Rock, mostly new faces with a few of our regular teams peppered in. The place was so crowded, our players had to sit outside since there was no room within.
The competition was intense off the gate, and slightly salty. While the first round was a breeze for most of the teams, they were all ridding the struggle bus by the end of the night. Round two's theme, World War II Allies, was greeted with a healthy amount of groaning. And questions like Which military hero was also an Irish Prime Minister of Britain in the 1800s? and What is the rainiest major city in the U.S. with a population over 250,000? almost got me excomunicated. Lucky for me, she who wields the mic is always right.
Highlights of the night included EVERYONE turning into a teenager over a question about Magnum Condoms, Gophers drawing pictures on their sheets (first a taco just to get extra points and later a "murder of crows" just to make me laugh) and The Degenerates bringing along the cuttest munchkids who were jamming and break dancing to the music. We even got another visit from our Official Brewery Cat TM.
The scoreboard was pretty even keel, with Pen is Mightier claiming fifth spot at 24 points. M+Mx2 landed on fourth place with 27 points, and Shit I don't know! came up top with 28 (Plot twist, they apparently did know). Gophers claimed second place with 30 points, and reigning supreme was House of Store Creek with 37 points. Shoutout to Brewsters, Classy Foxes, 4some 4ever, Thirsty Czechs, Keelers, Team Henke and East Texas Aliens for also spending the nigth playing.
As always, the bartending team at Siren Rock was on point and hotter than the sun! Bailey, Cally, Talin and Lauryn have my eternal thanks.
Hope to see you next Tuesday for another rousing game of "How Loudly Can We Complain About Questions", also known as PubGuys Trivia ;)
Always yours,
PBSnapdragon.
Do not forget to keep checking Facebook, Twitter, Instagram, and right here at pgtrivia.com for bonus point opportunities, #didyouknow spectacularness and more.