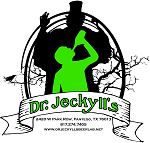 Shout out to Shane for being such a good sport! And - for the awesome beer and gear from 512!
And the winner is... came in 3rd place with 23 points, Total Recall came in 2nd with 33 points, and Good Luck, Trebeck took 1st with 38 points!
I can't wait to see you guys next week! If we survive Sunday night's GoT finale, that is...
Peace Out, Girl Scout.
PGKT
Do not forget to keep checking Facebook, Twitter, Instagram, and right here at pgtrivia.com for bonus point opportunities, #didyouknow spectacularness and more.