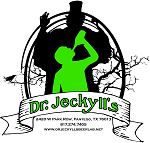 Welcome back! I hope you all had a great holiday, and I'm so happy to be back at Jeckyll's hosting some PGTrivia! We had Makenna in the house with some sweet beer and gear along with her good vibes from Collective Brewing Project.
We had a tie for 3rd place with 22 points between J&J and Pork Chop Xpress, Dog Moms Unite and Some Dog (shout out to Ronan the dog) came in 2nd with 29 points, and Toolbox cleaned house with a whopping 39 points! I want to give a special shoutout to new team Inquisitive for joining at the halfway point of the game and nearly coming in not-last place!
It's such a joy to host trivia, especially at Dr. Jeckyll's. I can't wait to see you all next week!
Peace Out, Girl Scout.
PGKT
Do not forget to keep checking Facebook, Twitter, Instagram, and right here at pgtrivia.com for bonus point opportunities, #didyouknow spectacularness and more.