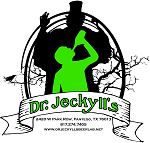 Howdy!
Thank you to the Dr Jeckyll's staff and patrons for putting up with me this week. I had a great time filling in for Katie and hope I can come back again soon.
Big thanks to Davis from Epic Brewery who was in the house passing out awesome Epic beer gear and talking about their beers on tap.
Huge shout out to the ladies in Macareno for finishing first with a whopping 43 points! They didn't take home any prizes though. After a surprise tie breaker Smells Like Assfault came out on top with 37 points and took home the first place prize, which means We Met on Tinder places third with 36.
Hope to see you all again soon, have fun without me next week!
PGNick
Do not forget to keep checking Facebook, Twitter, Instagram, and right here at pgtrivia.com for bonus point opportunities, #didyouknow spectacularness and more.